Improving Industry Safety


Fires and explosions continue to seriously injure and kill workers in the Canadian upstream oil and gas industry. An increased awareness and understanding of what contributes to this problem will help reduce the human suffering and financial loss it causes.

Unknown MySQL server host 'mysql.acs.ucalgary.ca' (1)

On this site you'll find: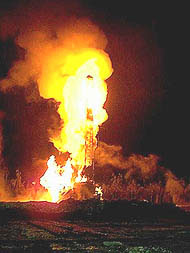 Practical technical information about the:

the properties of hydrocarbon fuels
potential fuel, ignition and oxygen sources

Overview of fire and explosion hazard management strategies
Guidelines for assessing operational risk factors
General practices to help prevent fires and explosions
Fire and explosion case studies from the field
An analysis of what these case studies reveal
The opportunity to submit a fire and explosion incident or near miss
Links to work on an Industry Recommended Practice – IRP18 – aimed at reducing this problem in Canada
List of site resources
The information on this site was compiled by the IRP18 Committee, a Canadian industry group working with the University of Calgary's Department of Chemical and Petroleum Engineering and Enform (formerly the Canadian Petroleum Safety Council) to address this issue. A joint industry government mulit-stakeholder group known as the Drilling and Completions Committee (DACC), oversees this project with the Alberta oil and gas industry financially supporting it at DACC's request through the Broad Industry Initiatives - a program coordinated by the Canadian Association of Petroleum Producers and the Small Explorers and Producers Association of Canada. The U of C's Centre for Innovative Technology hosts this site to foster the exchange of information.
The Fires and Explosions website contains information that is for educational purposes only. The information provided on this site is not intended to be a replacement for professional advice of any kind. Please click here to read full text of disclaimer.
Photos provided by Key Safety
Web Design by Prairie Sun Creations Inc.